Haynes: the smiling assassin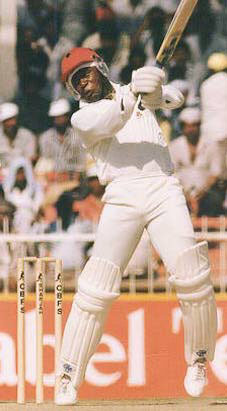 The image of Desmond Haynes which stays in my mind is one from the Ahmedabad test of the 1983 series against India. Haynes had made 55 and was facing Kapil Dev. The wicket was playing up quite a bit - Holding would eventually win the match for the West Indies - and the West Indies opener was understandably cautious. Then he lost his concentration and one from Kapil nearly went through him. It got him on the pad but not in front and began to roll toward his wicket. I wonder what was on his mind at that moment as he displayed a peculiar reflex; instead of jamming his bat down to stop the progress of the ball, he swivelled round, saw the ball moving towards the wicket and stopped it with his hand. It is the only time I have seen a batsman being given out for handling the ball.
But it is not merely for that that one remembers Haynes. For nearly 13 years he and Gordon Greenidge formed what was the most successful opening pair the West Indies have had. One could argue that they were the best Test openers in history but that would be a subjective judgement; suffice it to say that the pair scored a total of 6,483 runs together in the middle, nearly 3,000 more than the next pair on the ladder, Lawry and Simpson.
Haynes made his Test debut on March 3, 1978, against Australia at Port-of-Spain. He was one of those who joined the Packer circus a bit late. He often suffered by comparison with some of his teammates but that was only to expected in a team which boasted of batsmen of the calibre of Viv Richards, Alvin Kallicharran and Gordon Greenidge. The West Indies team of 1974 was the nucleus of the world-beating team of the 1980s and Haynes, though a couple of years later than the bunch, was quick to establish himself.
The Packer series and the resulting upheaval in world cricket saw the stars of the team go over to World Series Cricket and its pyjama parties. But when they returned, Haynes and Greenidge forged a partnership that is now part of cricketing lore. They played 89 Tests together and walked out to the middle together on 148 occasions. They stayed unseparated on 11 occasions. This enterprise yielded 6,483 runs at an average of 47.32, inclusive of 16 century stands, the best being 298 against England at Antigua in 1990.
Greenidge was the inscrutable type. Panther-like, he would uncoil in a trice and the bowler would know that this seemingly motionless creature had both the strength of a dozen and the ability which few others possessed. Desmond had a broad smile for everyone on the field, and this often deceived first-time opponents into believing that having him at the strikers end was the lesser evil. There were times when he would carve up the bowling so badly that Greenidge seemed a tortoise by comparison. But they both strove to excel and sometimes did match each other stroke for stroke. And after a while, the bowlers would realise that neither batsman was prepared to give an inch; they were both rock solid in defence and a loose ball would be given the treatment. The only difference would be that big smile on Hayness face after he had made the stroke; Greenidges mask would never drop.
Batting with Richards at one drop meant that Haynes often had to be content with little attention paid to him. This was the case with any batsman when Richards was at the crease, though. I recall the 105 Haynes made against Sri Lanka in the 1987 World Cup; he played the anchor role and built a solid innings, a mixture of controlled aggression and technically correct defence. But he was hardly noticed as his partner for the most part was Richards who blasted his way to 181 -- a World Cup record at that stage.
One thing was clear no matter what role he took on at the crease -- he enjoyed his cricket. And it wasn't a matter of just being happy-go-lucky as a lot of West Indies cricketers were prior to the Lloyd era; Haynes was a professional to the core. He knew that every innings could count and he wanted to be on the winning side; the professionalism came through in the fact that he never played nasty to ensure this.
Haynes had a raw deal towards what turned out to be the fag end of his career. Though he served as vice-captain under Richards, Richardson was favoured by the skipper. Greenidge was out of the running as he had been brought up in England -- the West Indies authorities are still sensitive about such things. Marshall could well have been considered but Haynes had the prior claim being senior to the fast bowler. The former continued to play just a year under Richardson and quit in disgust after the 1992 World Cup.
Soon after came that trough when Richardson quit the sport for a year and then returned. Haynes was clearly miffed about the captaincy and this was evident when he turned down the offer to be stand-in until Richardson came back. And after that the story is familiar; Richardson's bad form and the team's slow downhill tread led to the captain trying to save his back. Keeping better players than him, those who had more of a claim to the skipper's mantle, out of the way became paramount and at the first chance Haynes was sidelined. He had gone off to play in South Africa and missed a single Red Stripe match; that was sufficient reason to keep him out of the home series against Australia in 1995 as the letter of the law says that only those who have played the entire season are eligible for selection. He did try legal means to get back into contention but then the law is made by those in power and it will run their way. And so his innings against England at Bridgetown on April 8, 1994 became his last international appearance.
The outgoing president of the West Indies Cricket Board of Control, Peter Short, told a radio programme in Barbados some time ago that Haynes had been eligible for selection for the tour of England which followed the home series against Australia in 1995. But, said Short, he was not picked. On what grounds he did not say. Perhaps he could not. There were no grounds, cricketing ones anyway, for keeping him out.
Haynes then played in the veterans series in Sharjah. That did not in any way render him ineligible for selection to the regular team. There were still a few years of cricket left in him but when he was overlooked for the World Cup and also for the home series against New Zealand, Haynes, who by now had landed a job as coach of Sussex, decided that he would retire from international cricket for good. He quit the first class game on March 10, 1997, after a stint with Western Province; he made 83 and a duck in his last first-class game. Cricket, and more particularly West Indies cricket, had been shortchanged once again.
Haynes record:
Test Matches:
116 Tests; 202 innings 25 not out; 7,487 runs at 42.29. Eighteen centuries, highest 184 v England, Lord's 1980
Bowling: 1 wicket at 8.00, best 1-2 (Sarfraz Nawaz, ct Garner), Lahore 1980
12th highest run scorer in Test history
One-Day Internationals:
238 matches; 237 innings, 28 not out; 8,648 runs at 41.37.
17 centuries, highest 152 not out v India, Georgetown 1989. Highest run scorer and easily the most centuries in one-day international history.
First-class cricket:
376 matches; 639 innings, 71 not out; 26,030 runs at 45.91. Sixty-one centuries, highest 255 not out, Middlesex v Sussex, Lord's 1990, 138 half-centuries.
Eight wickets at 34.88, best 1-2 as above. Caught 201, stumped 1.
Eighth highest run-scorer among West Indians in first-class cricket (after Greenidge, Richards, Roy Marshall, Kallicharran, Lloyd, Kanhai and Sobers).
Test Opening Partnerships with Gordon Greenidge:
89 Tests together; 148 innings, 11 unbroken; 6,483 runs at 47.32. Sixteen century stands, best 298 vs England, Antigua 1990.
A little more than 800 runs more than the next best opening pair in Tests (Matthew Hayden/Justin Langer - 5654 in 64 Tests at 51.88)